What is involved in a Guide Dog partnership?
We strive to ensure you and your dog share a powerful bond.
It's absolutely essential that you and your dog share a powerful bond. Every partnership is built on trust, companionship, and a strong connection.
There are several steps to prepare dogs for these relationships; we use behavioural science and modern force-free training techniques. They include considerations for assessment, training, and partnership.
Every Guide Dog goes through an intensive training program to learn the skills required to navigate communities: from busy city streets to the uneven paths and tracks of the countryside.
After training, dogs are matched through a detailed selection process that caters to each Handler's individual personality, mobility needs, and lifestyle.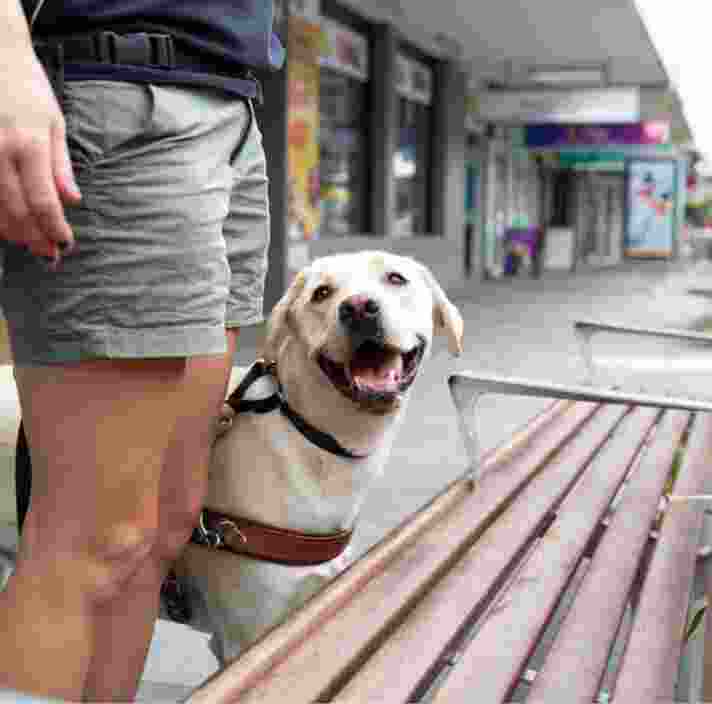 About the puppy assessment process
To graduate, every Guide Dog puppy must meet the highest standards.
After approximately ten months in the Puppy Raising program–at around 12 to 18 months of age–young dogs return to their local Guide Dogs Centre for a thorough assessment of their physique and personality. Our veterinarians give every puppy a health examination on arrival, using kind and welfare-friendly techniques.
The dogs complete a one-to-two-week temperamental assessment during which instructors will note each pup's reactions to different situations that are common in day-to-day environments. For example, their reaction to other dogs and cats. Other tested distractions include food, noise, or other circumstances that the future Guide Dog will navigate daily.
Selection criteria are extremely strict. Every puppy has to meet the highest standards as the safety of their future mobility partner or Handler is paramount.
We don't receive any government funding for our Guide Dog training program, so generous and regular support from the community is essential in helping our puppies change lives. Every contribution counts.
Puppies that do not meet the selection criteria for Guide Dog work may go on to become Pets as Therapy (PAT) Dogs or Companion Dogs. They can also return home to their Puppy Raiser as a pet or find a 'forever home' with someone from the general community.
The first stages of Guide Dog training
It takes hard work, skill, and dedication to meet the world-class standards of a fully-qualified Guide Dog.
The training involves an intensive five-month program. Each Guide Dog instructor will work with a group of six to eight dogs. Over the course of more than 80 training sessions, the instructors gain a detailed understanding of each dog's physical abilities, personality traits, and temperament.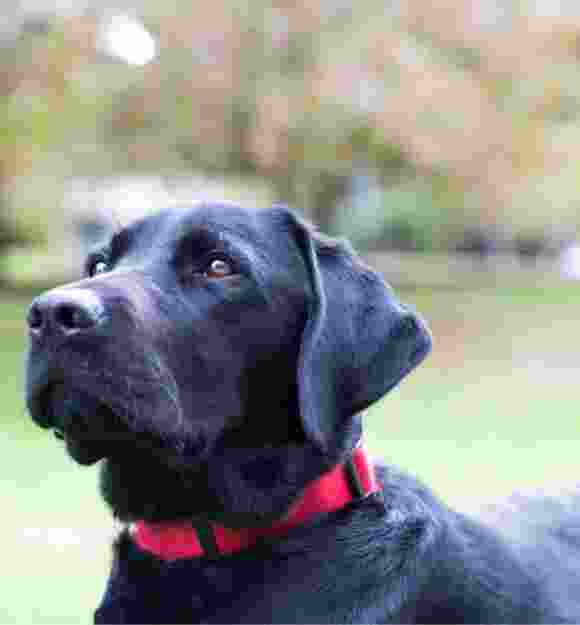 Key training skills include:
Walking in a straight line
Ignoring distractions like cats, food, or other dogs
Indicating a curb by stopping
Understanding the meaning of simple verbal commands, like 'stop', 'forward' and 'straight to the curb'
Targeting destinations that a mobility partner or Handler attend, like the workplace, the doctor, or school.
Training environments include suburban residential environments, semi-business and city scenarios, and rural conditions.
A fully trained Guide Dog will have experience in guiding a person with low vision or blindness in whatever environment their home is likely to be.
Moving into advanced training
As training continues, the skills become more advanced.
During the second month of the training program, the instructors begin teaching dogs more advanced safety techniques. For example:
going around obstacles such as overhanging trees at head height
navigating through busy crowds, and
locating and travelling on public transport.
Guide Dogs in Training receive primary and secondary reinforcement for making good choices. They also get to relax in the hydro pool, receive regular massages, and engage in play sessions to help them relax.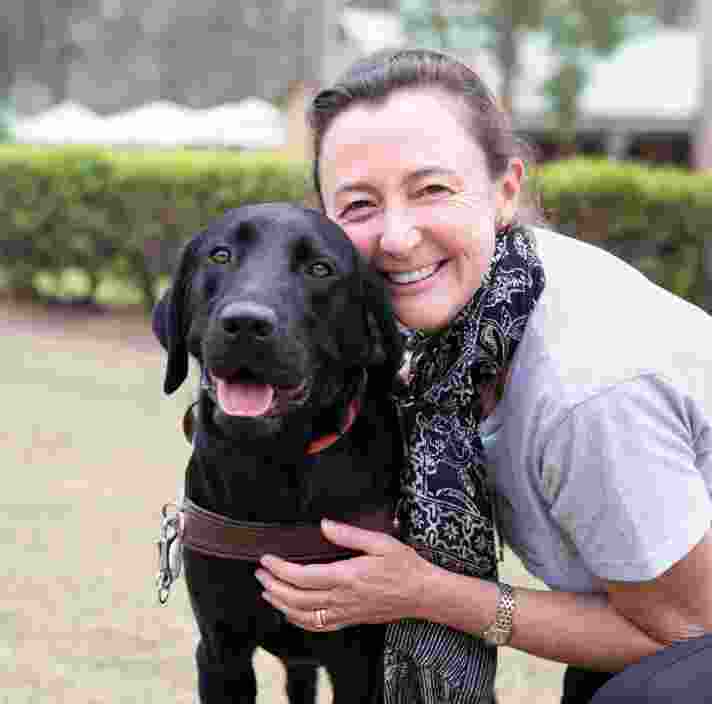 The final stages of training
Throughout the final stages of the training program, Guide Dogs begin to learn traffic safety skills.
Instructors work with dogs on a number of advanced routes where guiding ability can be assessed.
For example, dogs will be evaluated as they:
walk to a train station
board a train to the city
travel up to street level from the underground
find their way to a practical destination.
Dogs are assessed as they navigate through busy and distracting crowds, and return to their original starting point via another transport system, like a bus.
The goal is to simulate the reality of the guiding work the dog will do when matched with their new Handler.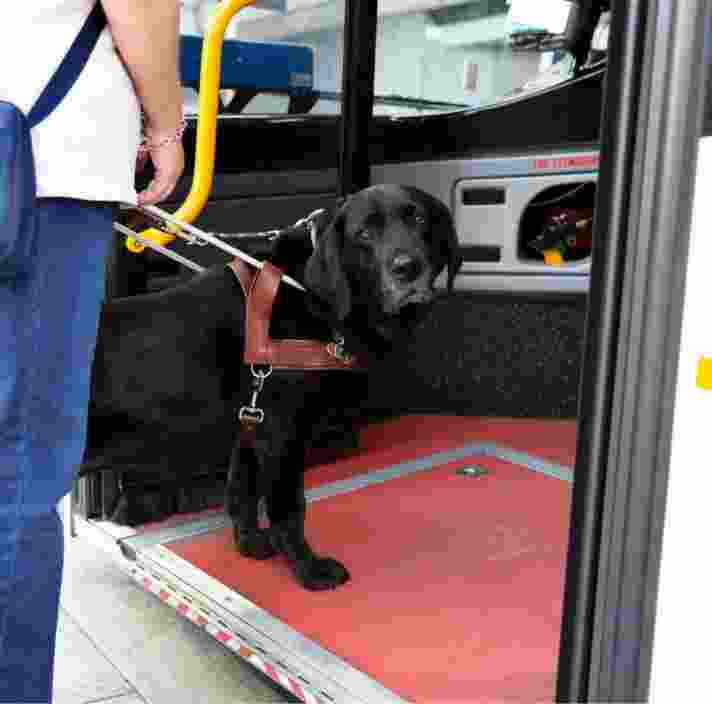 Ready for graduation!
Preparing to enter a life-changing partnership.
After around 20 weeks, Guide Dogs in Training have learned to respond confidently to around 30 commands by word, hand, or foot. They will have also learned to disregard these commands in certain situations for the safety of their partner.
The qualified Guide Dog is now ready to be matched with their new Handler; a person with low vision or blindness. Once matched with a person, fully-qualified Guide Dogs offer companionship, safety, and friendship.
When a Guide Dog retires, they usually stay with their Handler as a regular pet dog. Many put their paws up to enjoy retirement, although sometimes they can play a valuable role in helping a new Guide Dog settle in.
Matching Guide Dogs with their new partners
Guide Dogs are matched with people based on the person's personality, mobility needs, and lifestyle.
Once you are accepted for Guide Dog training, we seek your closest match with a Guide Dog nearing his or her final stages of training.
The average waiting time for a Guide Dog is four to six months. Some people may be prepared to wait longer to ensure they receive the right dog for their specific needs.