Understanding access
What is access?
In its simple dictionary definition, access is the means or opportunity to approach or enter a place.
In reality, this means you can move about your community with choice and freedom. Great, right?
But imagine if you weren't allowed to, or it was made difficult for you to enter a café or a restaurant, to stay at a certain hotel, or take transport like taxis, ride-shares or buses and trains.
People with low vision or blindness experience access challenges daily. This might include being illegally refused entry to a venue because they have a Guide Dog, or it might be because physical barriers, signage or a lack of information don't allow for them to enter a place in an inclusive way.
It doesn't have to be this way.
Our Access All Areas campaign aims to remove barriers for people with low vision or blindness, and provoke change.
On this page you can hear from people with low vision or blindness about their own experiences with access challenges. If you're a Guide Dogs Client you can find out more about your access rights and how you can self-advocate. If you're a business owner you can download tools, tips and other resources to make your business more welcoming and inclusive.
Understanding the challenges
What is the impact of access challenges?
Beyond the practical implications of being told you can't easily sit and enjoy a coffee with a friend, catch a quick ride out to dinner, or book into the hotel of your choice, comes how this can make you feel.
A loss of confidence and concerns for safety were some of the broader impacts expressed by people with low vision or blindness in a recent Guide Dogs Client focus group about access challenges.
One third of Guide Dog Handlers from across Australia, questioned in our 2021 Guide Dog Handler Survey, told us they had been illegally refused access to a public space, event, business premises, taxi, ride-share or public transport vehicle because of their Guide Dog in the last year.
Of the Handlers that reported refusals, 68% experienced a refusal in a taxi or ride-share, 48% at a food establishment and 28% at a retail outlet.
Guide Dog Handlers said this made them feel frustrated and annoyed, but also angry, upset and often embarrassed.
But it's not all bad news.
While COVID-19 has in some ways made it more difficult for people with low vision or blindness to physically distance in public spaces, Clients say they have had increased access to telehealth services, accessible technology and information online.
At Guide Dogs we also work with industry bodies, government departments and private companies to provide access consulting services and training to ensure places in our community – including private property, public environments, workplaces, sporting venues, and a range of other spaces – comply with Australian Disability Access Regulations.
"13cabs and Guide Dogs Australia has a long standing, ongoing and important relationship; designed to maintain the highest standards of Driver education and awareness.

13cabs Drivers play an important role in transporting our community, and we want Drivers to understand and meet the needs of those customers who have low vision or blindness, and travel with Guide Dogs.

Our recent collaboration, producing a Driver training video to be shared nationally with 13cabs Drivers, has been a priority and an indication of the innovative ways we can work together into the future. "
Access is no joke
Comedian, Actor and Guide Dogs Ambassador, Michelle Brasier talks about why access is important to her and the inspiration behind her role directing and starring inour #accessisnojoke video.
"The special bond and partnership between a person and their Guide Dog opens up opportunities and experiences. Nobody should be shut out from having a laugh or enjoying a night out and that's why Guide Dogs, and their Handlers, can access all areas.
This campaign is very close to my heart. Accessibility in the arts is becoming more and more of a priority but we have a long way to go before everyone can enjoy a night out at the theatre. I'm working with Guide Dogs to help spread the word on how we can all be more inclusive. The arts are for everyone to enjoy and to work in. We need our practice to catch up to our ideas so that the arts are truly accessible for everyone. Being inclusive makes it better for everyone."
Michelle is also an integral part of our partnership with the Melbourne International Comedy Festival – promoting access and inclusion for all.
Michelle Brasier

Michelle speaks about why she wanted to be involved with this campaign!

Erin

Watch as Erin discusses the importance of accessibility for this campaign

Ben

Ben talks us through ways that businesses can create accessible spaces.

Salma

Salma shares stories about members of the public who helped create accessible environments.

Jaci

Jaci discusses individual and systemic advocacy

Erin

Accessibility challenges experienced by people with low vision or blindness.
Resources for people with low vision or blindness
Access is a fundamental right for all Australians. Everyone should have the same experience of public places, private buildings, workplaces and more.
Understanding your rights as a person with low vision or blindness, and being able to advocate on your own behalf, is a crucial first step towards ending access discrimination.
A person using a harnessed Guide Dog is allowed entry into all public places. It is an offence to deny or charge a fee for the entry of a Guide Dog. Police and other authorised officers can issue on-the-spot fines or take further action on any violation of these access rights.
If you're looking to learn from other peoples' stories or download tools and tips for self-advocacy, we're here to support you on the journey.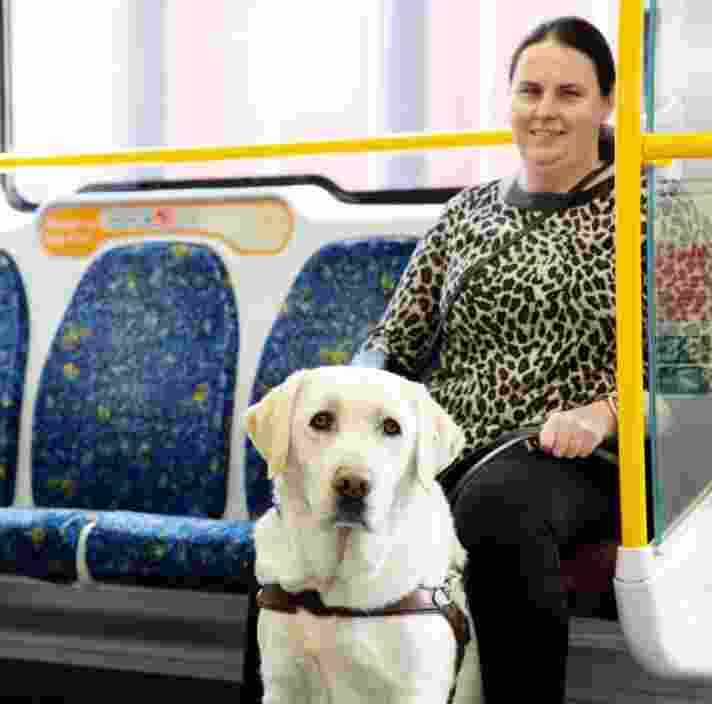 Resources for business
It's easier than you think to ensure everyone has equal access to your business or services.
Making your business welcoming and accessible to people with low vision or blindness extends beyond the legal requirement to allow Guide Dog Handlers to enter with their Guide Dog.
There's a vast array of simple – but often overlooked – strategies you can use to ensure everyone can access your services.
That's why we've created some simple guides to help you understand accessibility, why it is important, and how you can attract more customers by making your business more welcoming.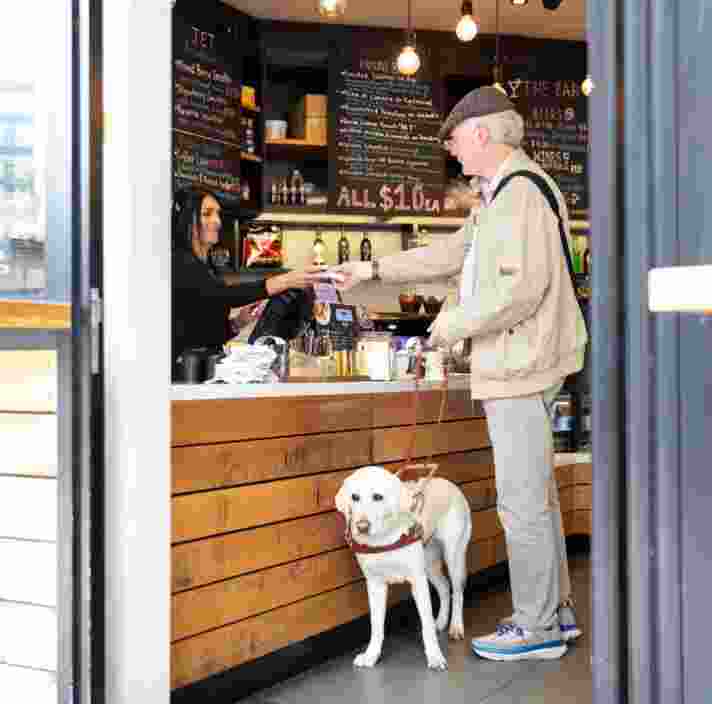 Thank you to the State Trustees Australia Foundation
This campaign was made possible thanks to the Community Inclusion Grant from the State Trustees Australia Foundation.
Thank you for supporting access and inclusion for all Australians.

State Trustees Australia Foundation
Translated Guide Dog Access Statements.
Learn more about Guide Dog Access in different languages.
Resources for Clients
Client stories and self-advocacy.
Learn about more about Guide Dogs and our services.
Resources for businesses
Resources, tools and tips.
Learn about more about Guide Dogs and our services.