International White Cane Day
This day is always an important one on the Guide Dogs calendar, as the white cane is the mobility tool of choice for most of our Clients.
This year's theme for IWCD is 'Clear the Way'.
Clear the Way is about tapping into the literal and figurative. Let's not just remove physical obstructions, but also non-physical barriers, such as stigma and discrimination, to allow for better access and inclusion.
Earlier this year, a Guide Dogs Australia-commissioned Ernst & Young report surveyed 622 people with low vision or blindness to understand inclusion barriers. It found: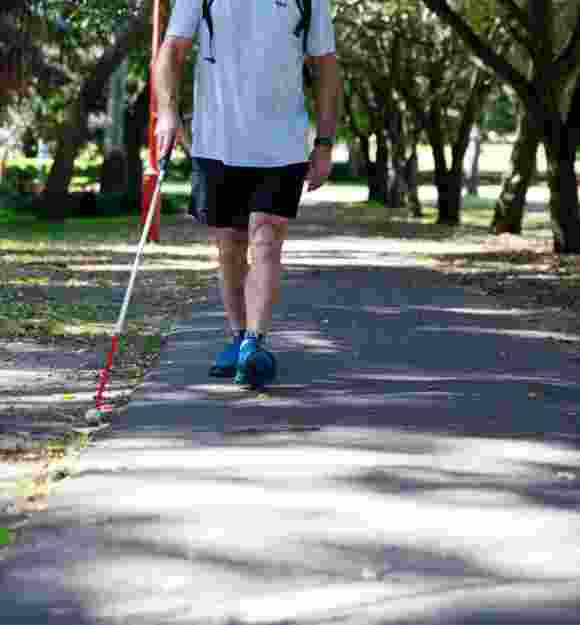 More than four in five people with low vision or blindness have experienced challenges in public places or while using public transport in the past two years.
Only 31 percent of non-Guide Dog Handlers report feeling very or extremely confident when accessing their communities.
Nearly all (96 percent) respondents have experienced challenges with footpaths in the past two years, with overhanging branches proving the most problematic issue.
More than half of non-Guide Dog Handlers report feeling not at all confident or only slightly confident when crossing a road.
This year, Guide Dogs Australia is encouraging Australians to 'Clear the Way' and be more mindful of how their actions in public places directly affect people who use a white cane to navigate their community. Together we can make our streets safer and more accessible. By being more conscious and aware of our actions and their consequences, we can make life better for everyone.
"The path obstacle I commonly experience is outdoor seating at restaurants or cafes, especially in warmer weather. I would just ask that businesses and people be more mindful about where chairs are left, how far out they sit, or crowding around ordering and queuing because it can make it much harder to navigate. The lack of tactile surfaces in public is also a major barrier because those are so crucial to help indicate simple things for people who use white canes, including when stairs are coming or when I am at the edge of a busy road. E-bikes and scooters are also really popular, but when they get dumped in the middle of a path, they can be tricky to get around and slow me down. "