An experiment in trust
Trust is at the heart of everything we do.
There's the unbreakable bond of trust between Handlers and their Guide Dogs. There's trust in our services; trust that we go above and beyond to support people with low vision or blindness to live safely, independently, and to achieve their goals. We never take trust for granted and we strive for integrity in every single thing we do.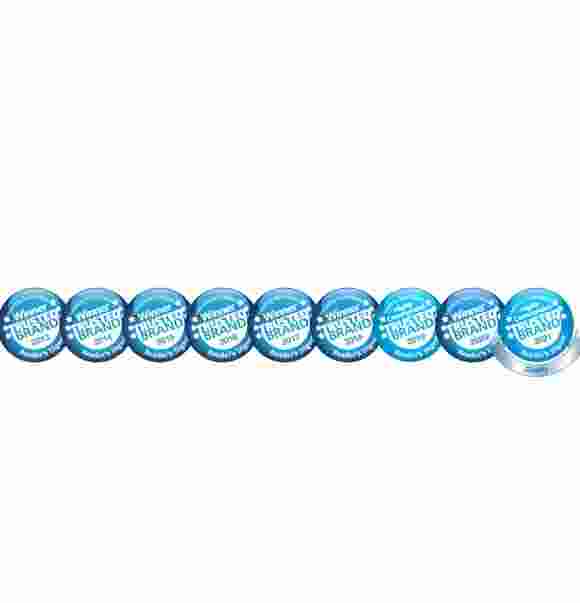 We've created this campaign to reinforce the importance of trust in the day-to-day life of a person with low vision or blindness, and to celebrate their achievements. Watch this space for more information on how we're evolving as an organisation to support even more confidence and independence.
We are proud to have been voted Most Trusted Charity Brand seven times since 2013 and thank the Australian public for their continued commitment to Guide Dogs Australia.
With trust comes freedom.
The video starts in an all-white room. There is a white maze on the floor. The walls of the maze are around 10cm high. At the end of the maze is a white door.
Walking around in the maze are approximately 50 yellow ducklings. After a close-up of the ducklings, the video pans back out to find Guide Dogs Client Liz, standing at the top of the maze with Guide Dog Jazi – a black Labrador – on a harness. Liz seems anxious. Sensing this, Jazi, leans in, and Liz immediately appears calmer.
Dazzled by the starkness of her surroundings, Liz tries to orient herself, unaware that Jazi is already figuring out the room. Liz tightens her grip on the handle of Jazi's harness. 'Find the door' she says gently.
Alert, Jazi has already seen the target – a plain white door at the end of the maze. In their way is the white winding pathway complicated by foot-high maze walls with raised edges that would be easy to trip over. If that wasn't enough, the sea of tiny yellow ducklings waddles their way up the pathway, exploring each corner curiously.
Unphased, Jazi safely guides Liz along, careful to avoid the busy ducklings who dart back and forth. Turning a corner, Jazi stops in her tracks. Blocking their path is a group of ducklings snuggled together, preening each other. 'I trust you' Liz encourages. Inching forward, Jazi interrupts the chatter and the ducklings scatter. Liz feels the vibrations of their little wings as they whizz past her ankles. Jazi stands firm and still, so Liz waits.
When it is safe, they move forward, and finally reach the door safely. Elated, Jazi is happy to receive Liz's praise while Liz opens the door into a busy street. A wall of noise hits her, but Liz strides ahead, her complete trust placed in Jazi.
Text on the screen reads "With trust comes freedom." As we watch Liz confidently walk down the street with Jazi leading the way, the text on the screen is replaced with the words "Guide Dogs" before the screen fades to black.
Behind the scenes photos
Guide Dog Jazzy learning how to work with baby ducklings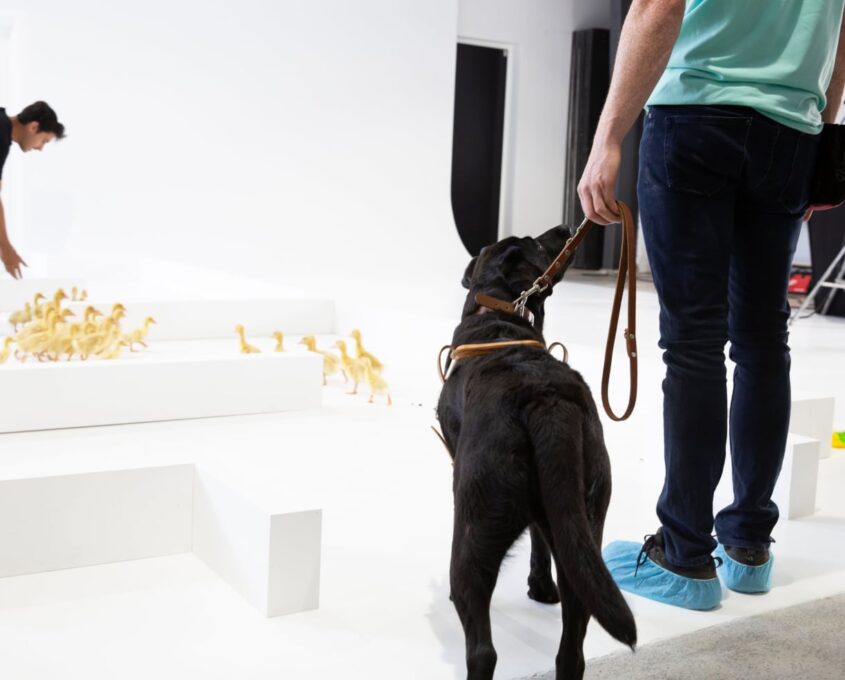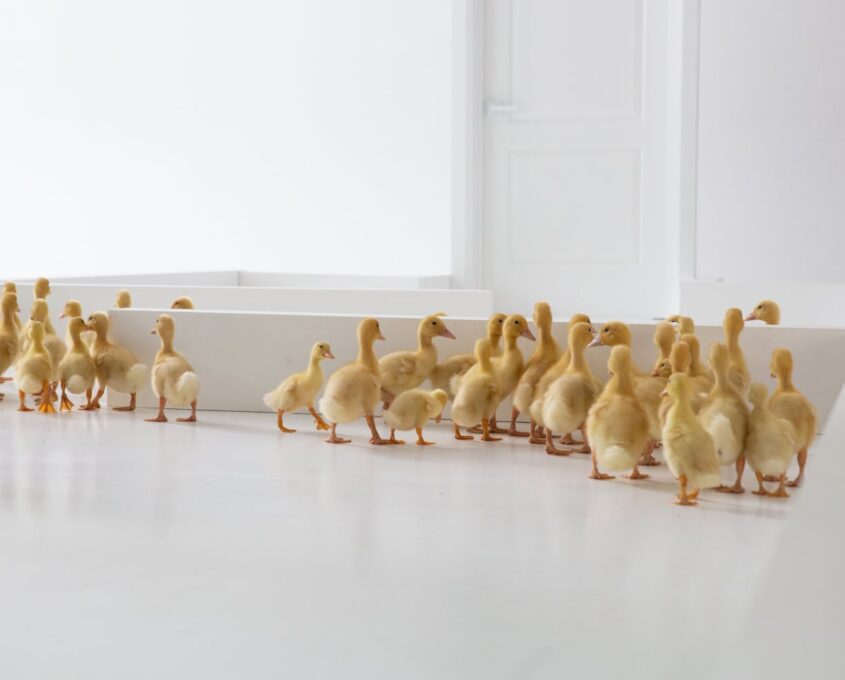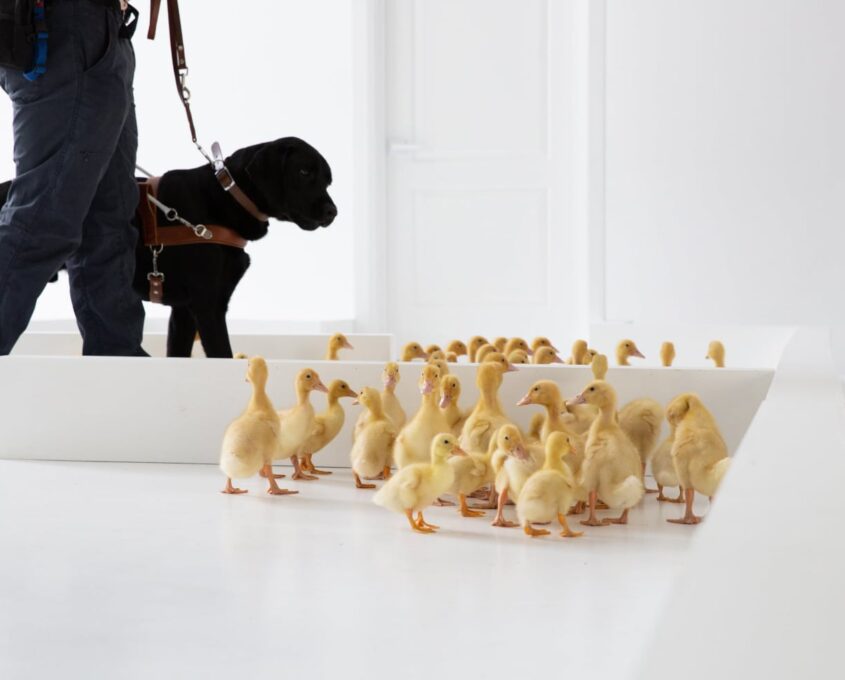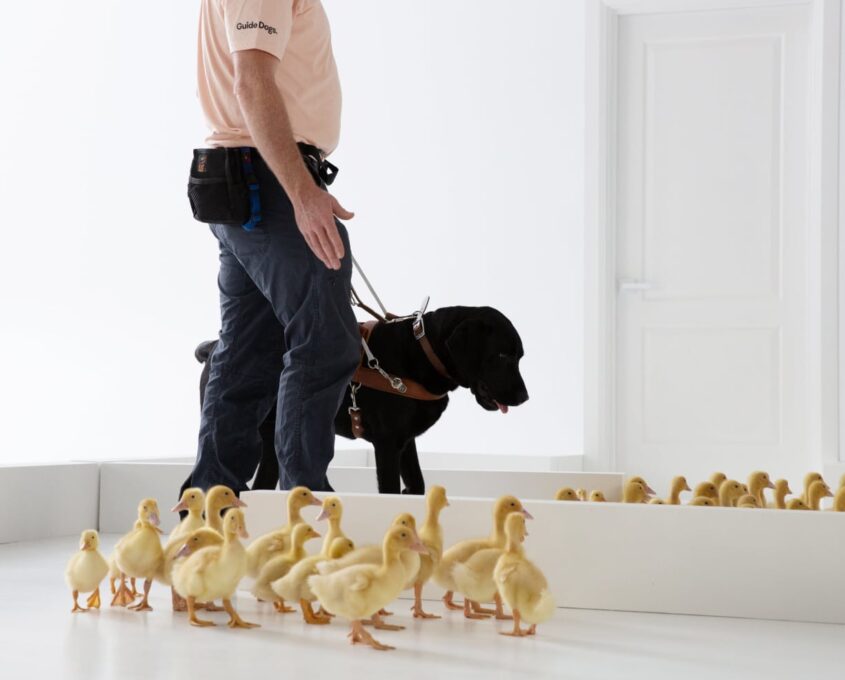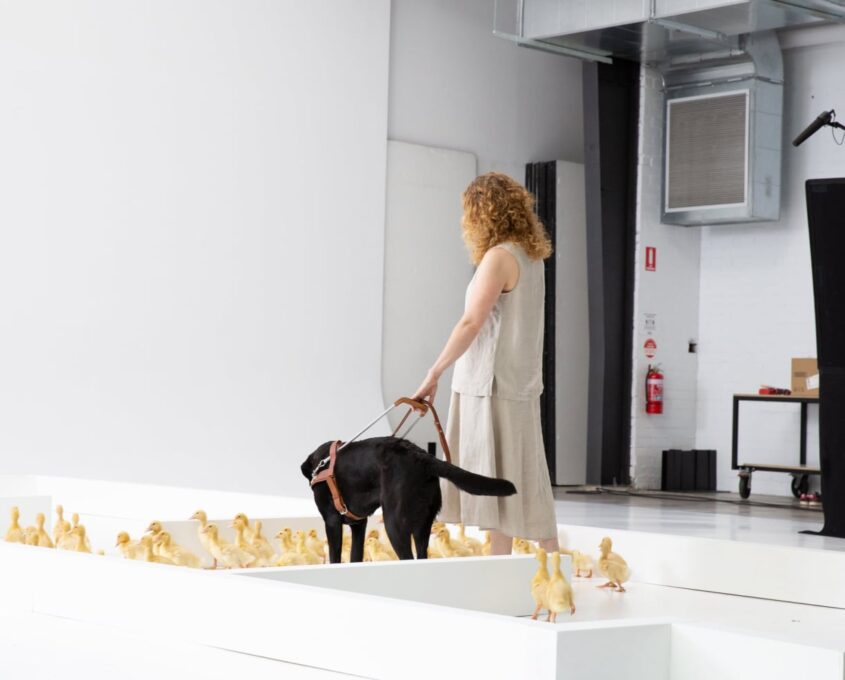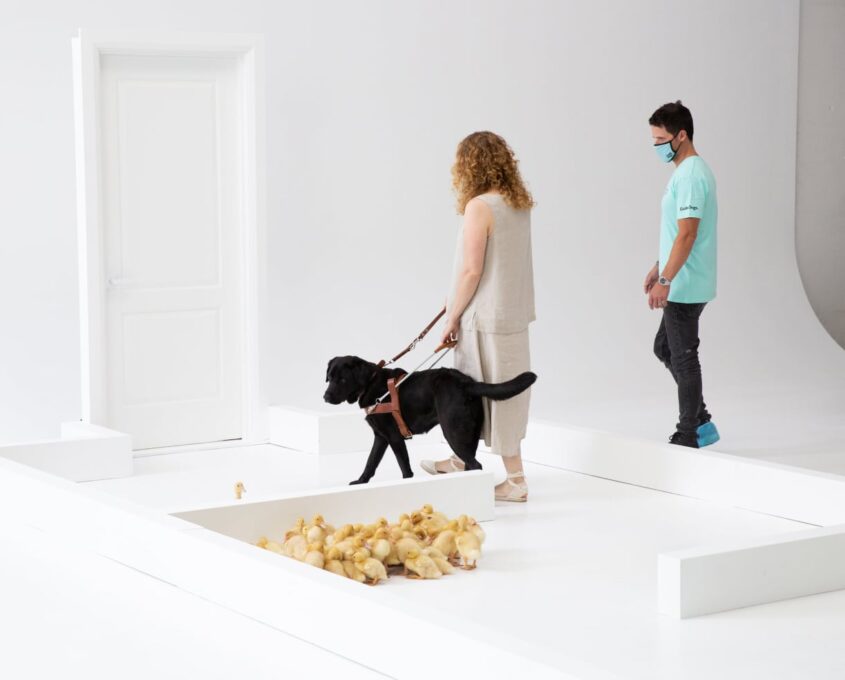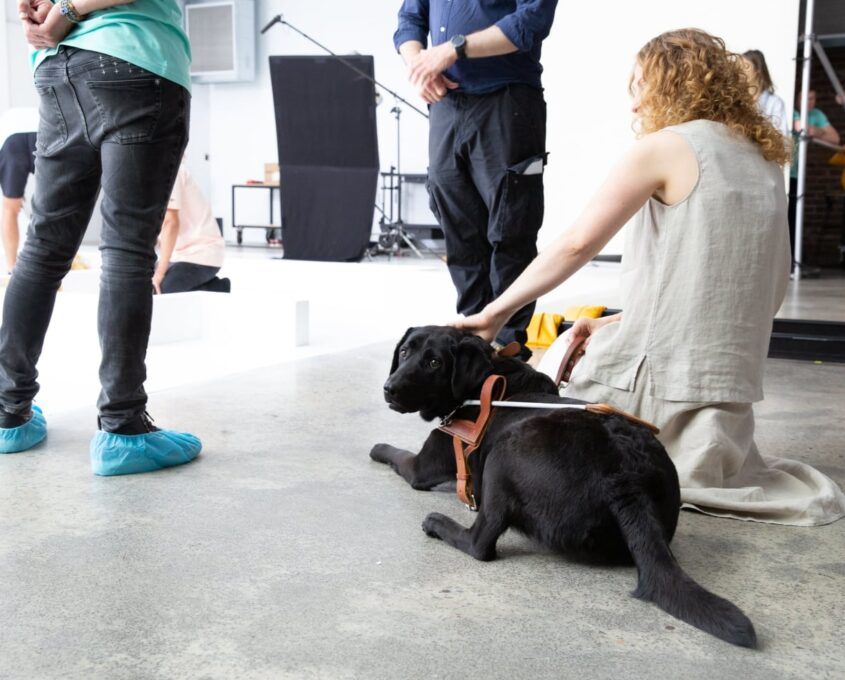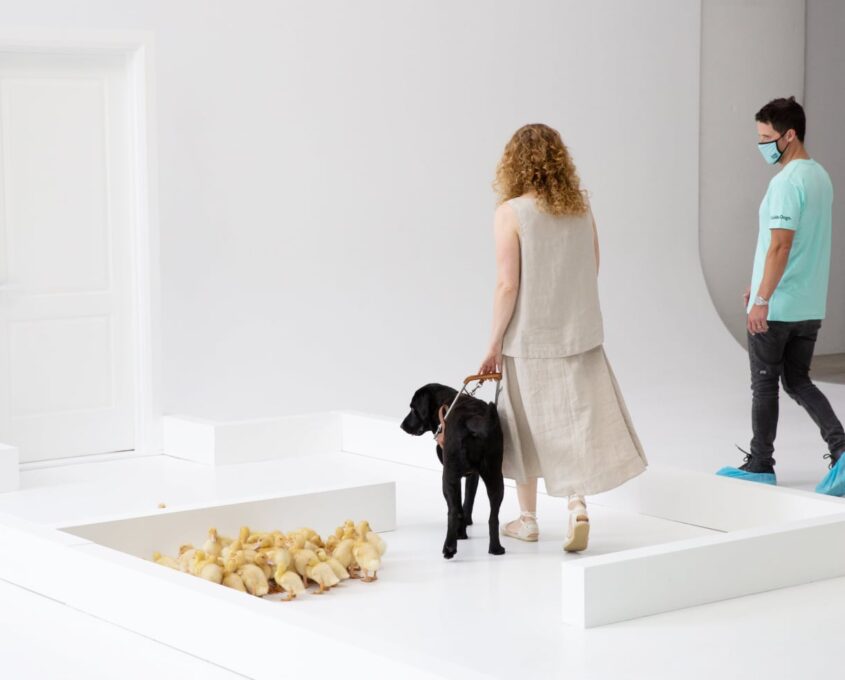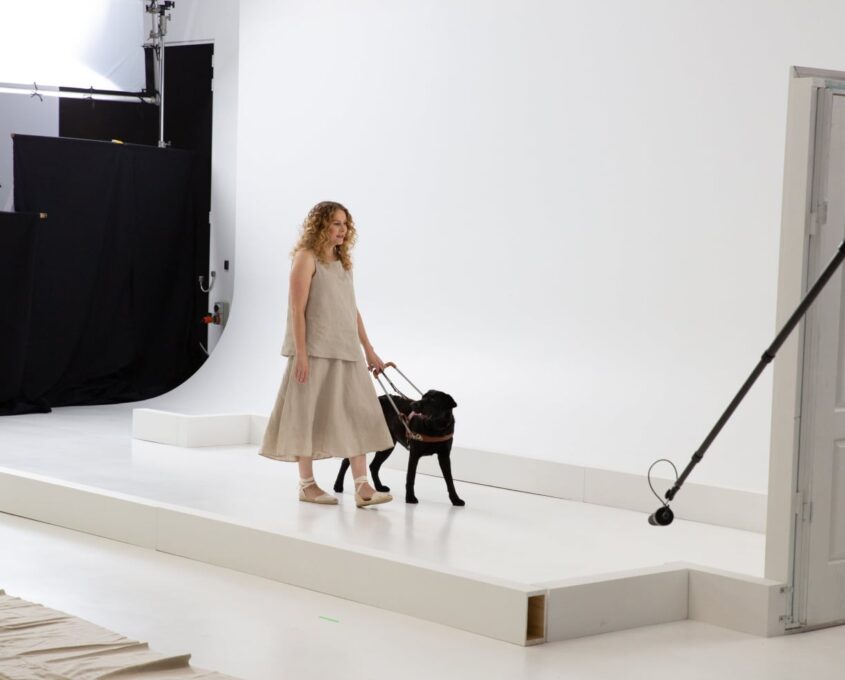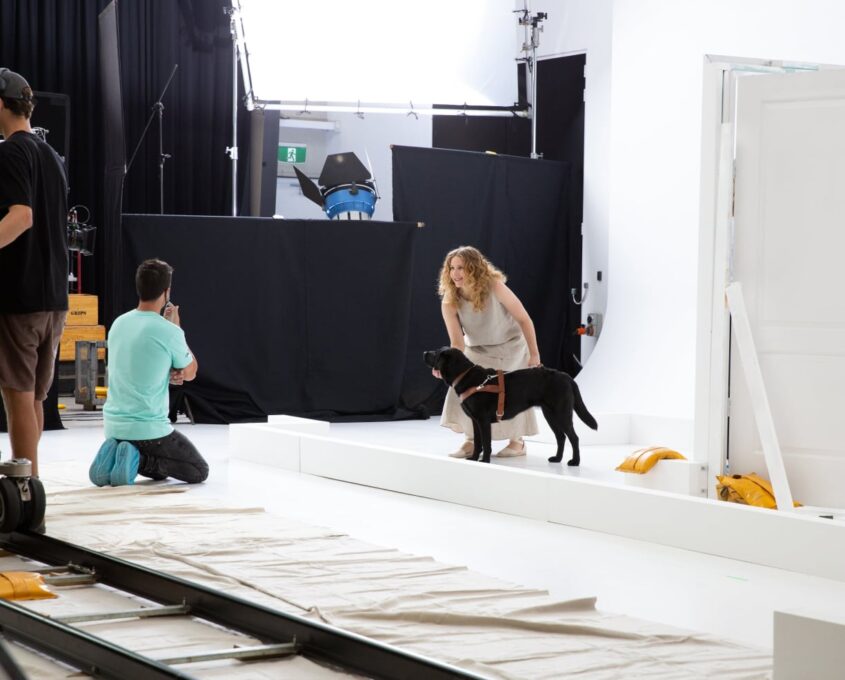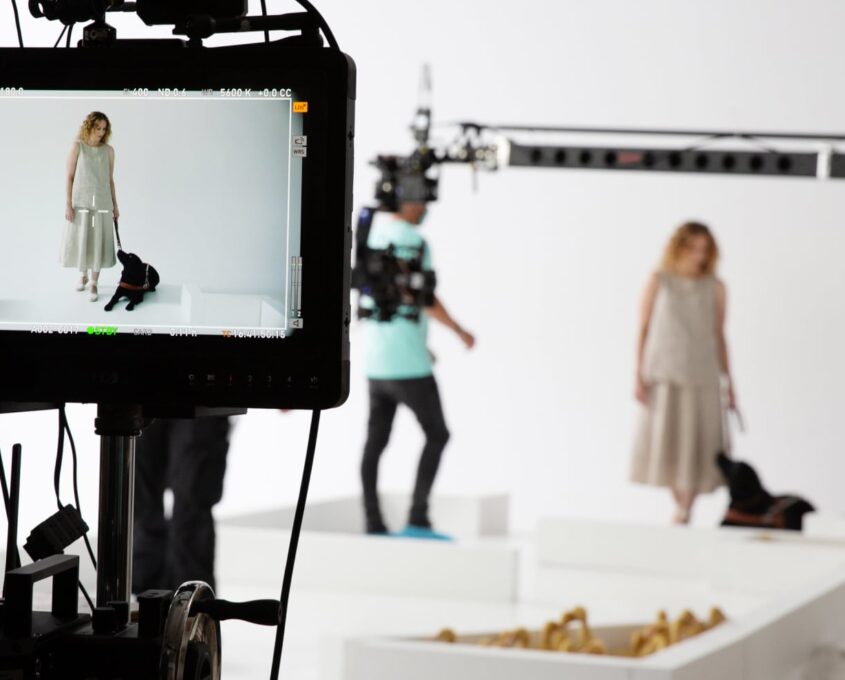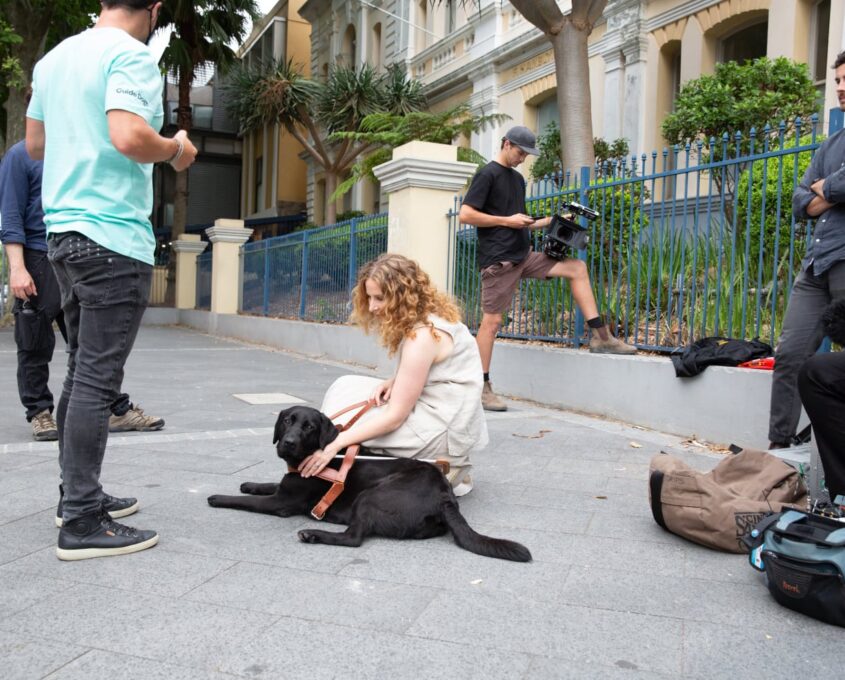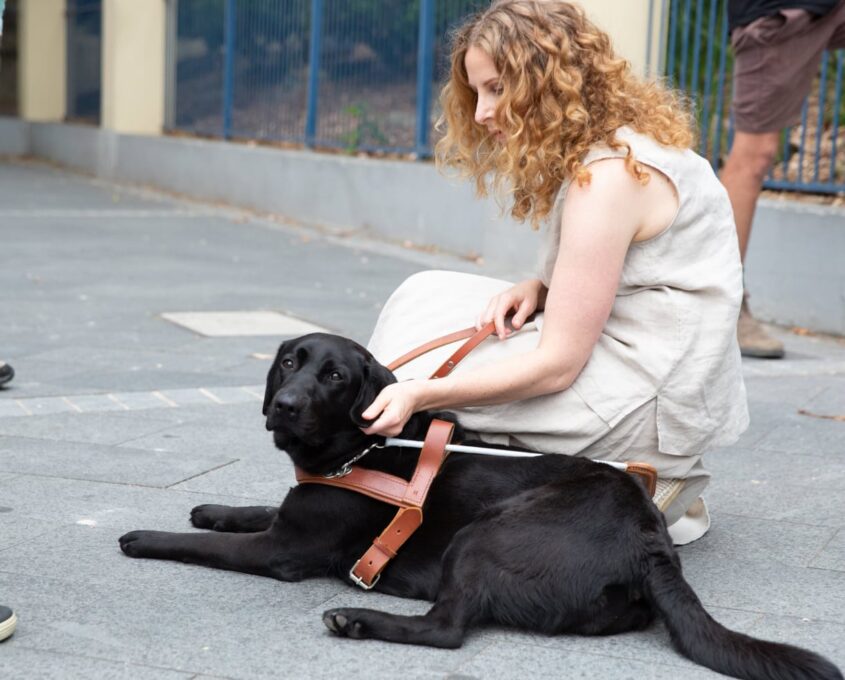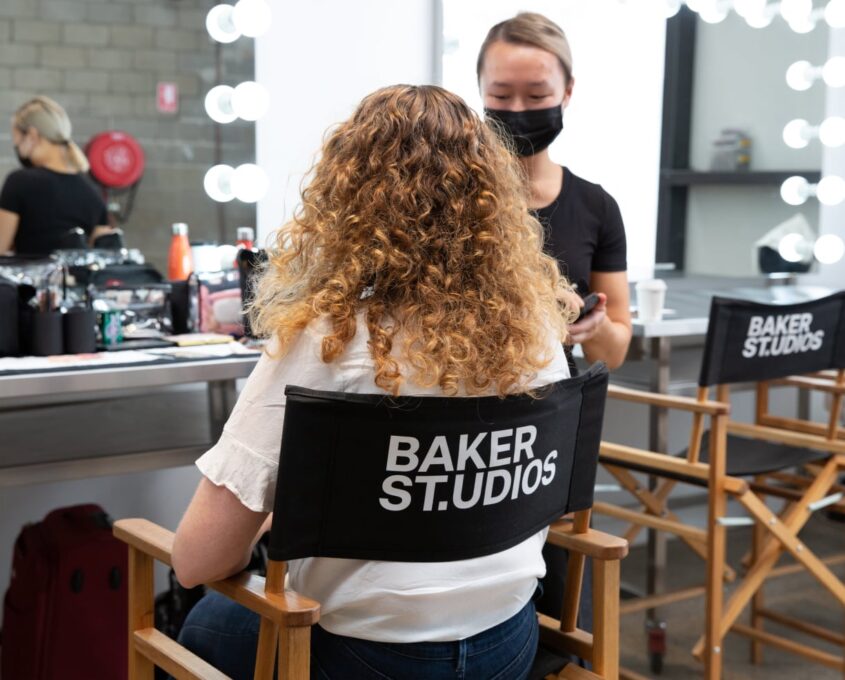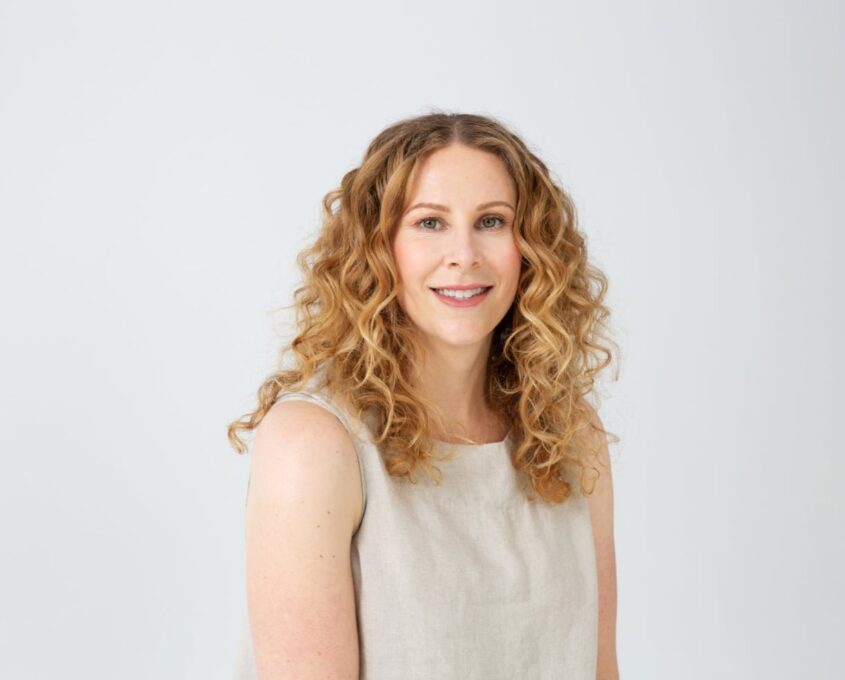 About the campaign
About the campaign
Trust is at the core of what Guide Dogs stands for: the trust people with low vision or blindness put in us to provide services that will enhance independence; the trust a Guide Dog Handler places in their life-changing Guide Dog; the trust our generous supporters give us to use their donor dollars wisely.
This trust is something that's been built up over more than 60 years, and we wanted to create a powerful and memorable campaign that illustrates this emotion.
Our campaign uses a challenge maze filled with baby ducklings as a metaphor to show how a Guide Dog Handler places immense trust in their Guide Dog to help navigate through the unpredictability of life in a safe and independent way.
At the end of the maze, the Handler and Guide Dog reach a door that opens to the outside world filled with large, moving obstacles. Despite the outlandish notion of a maze of baby ducklings – this serves to illustrate that this is where the real challenge, which Guide Dogs take on every day, begins.
Guide Dogs Australia has been awarded Most Trusted Charity Brand as part of Australian Reader's Digest "Most Trusted Brands" for seven years.
When creating this campaign, we strived to uphold this trust by keeping the welfare of everyone involved, including our dogs and other animals priority.
Yes, Liz is a real Guide Dog Handler, not an actor, but she was not partnered with her own Guide Dog in our campaign.
We made this decision for several reasons – with the safety and welfare of everyone and all animals involved at the centre of these decisions.
The dog, Jazi, chosen to appear in the campaign was specifically trained for the task of not being distracted by baby ducklings. Our Guide Dogs undergo extensive training to avoid many distractions in their daily working life (food, crowds of people etc), however we recognised that baby ducklings were an additional, if not unusual challenge.
In fact, we chose two dogs, Volku and Jazi, to be trained for this very special starring role, so we could be confident we could achieve the desired result in the right way, and have the best outcome on filming day.
We chose to train two dogs that were currently undergoing their Guide Dog training, as they are currently very focussed, and engaged in the learning process.
We chose not to train existing Guide Dogs due to factors including the time needed away from their Guide Dog Handlers for training. After our two dogs-in-training were suitably acclimatised to the distraction of baby ducklings, we then introduced the dogs and our Client talent to each other with the expertise of a Guide Dog Mobility Instructor. Further training was conducted under their guidance to ensure we achieved the desired outcome for not only the campaign, but also for everyone's safety and welfare.
We also worked with two Clients in the lead up to filming day, to again ensure the best outcome on filming day, and to ensure everyone's safety and welfare. This was particularly important, due to our strict Covid-19 guidelines, which meant we had to account for someone becoming unavailable if they didn't meet health requirements on the day.
Jazi and Volku, two Guide Dogs-in-training, were chosen to be a part of this campaign as they are currently very focussed, and engaged in the learning process – much like students studying for final exams.
Jazi is a very bubbly and excitable Guide Dog-in-training. She is a social butterfly and loves to play chase with her team mates when out of harness. When in harness she is confident, cautious and takes her job very seriously. Jazi is excels at targeting. She loves to use her nose to find the pole, seat or door. It makes her happy and she is usually waging her tail with happiness when she gets it right. Jazi is still learning to 'body up' and push into her Handler to get them to avoid any potential obstacle they might walk into. But she is improving and loves a good challenge. During training, Jazi has improved her ability to ignore items of food she may pass over on the street. She is now confident and happy to walk on by!
Volku is a happy and affectionate dog who loves to work and will do anything for a treat. His tail wags the whole time whenever he's training. Volku has developed strong skills guiding his Handler to a destination and targeting a seat or a door with his nose. Volku's biggest challenge is he sometimes gets overexcited showing off all the cool things he knows how to do! During training for the campaign, Volku has improved on learning how to navigate obstacles with enough clearance to keep his Handler safe, as well as doing a quick 'stop' when it is not safe to move ahead.
On filming day, Jazi and Volku were accompanied by their very proud Guide Dog trainers to oversee their welfare and ensure appropriate rest breaks for sleep, food and watering, and toileting.
At Guide Dogs the health and welfare of our dogs and people always comes first – and this approach is no different when we're working with, or partnering with other organisations, animals or people.
In creating this new campaign it was of vital importance to us that all animal welfare standards were upheld.
We chose to work with Michelle's Happy Hens and Ducklings due to Michelle's excellent industry reputation and years of experience with filming projects like these. Michelle came highly recommended due to her own commitment to animal welfare and safety standards.
Michelle personally oversaw and managed all ducklings on the filming day and ensured appropriate food, water, transport, temperature control and rest breaks as necessary. On the filming day, Michelle brought 45 ducklings on set.
Michelle's ducklings are raised and/or sold as pets only, and she offers a rehoming service for any ducks that can no longer be kept as pets.
Michelle's property features several large dams and grassed paddocks where the ducklings and other birds reside. Michelle's ducklings are exposed to dogs and other animals on the property from a very young age, in particular several Maremma Sheepdogs who act as livestock guardians.
As a charity that relies heavily on donations from our amazing supporters, we take the responsibility of spending donor dollars extremely seriously.
The trust our supporters place in us every day to fund services for people with low vision or blindness is something we do not take lightly.
But, like any organisation we need to tell the world who we are and what we're all about through marketing and communications avenues.
In this instance we've partnered with several companies including creative agency, Thinkerbell and Michelle Happy Hens and Ducklings who provided significant pro bono support to enable this campaign.