What are Therapy Dogs?
Providing friendship, support, and assisting with emotional development.
Dogs can play an important role in any child's life. They can offer friendship, support with social and emotional development, and generally help children feel more comfortable in the world.
Therapy Dogs—sometimes called Pets as Therapy, or PAT Dogs—do the same, while also creating an opportunity for kids with low vision or blindness to learn about the experience of partnering with a Guide Dog, if they choose to do so later in life. Therapy Dogs can also provide companionship and emotional support for families or social groups.
Sometimes, a Therapy Dog's support can be as simple as sitting by your side if you feel nervous about something. Other times, Therapy Dogs can bring families together by encouraging long-term routine, commitment, and empathy for others.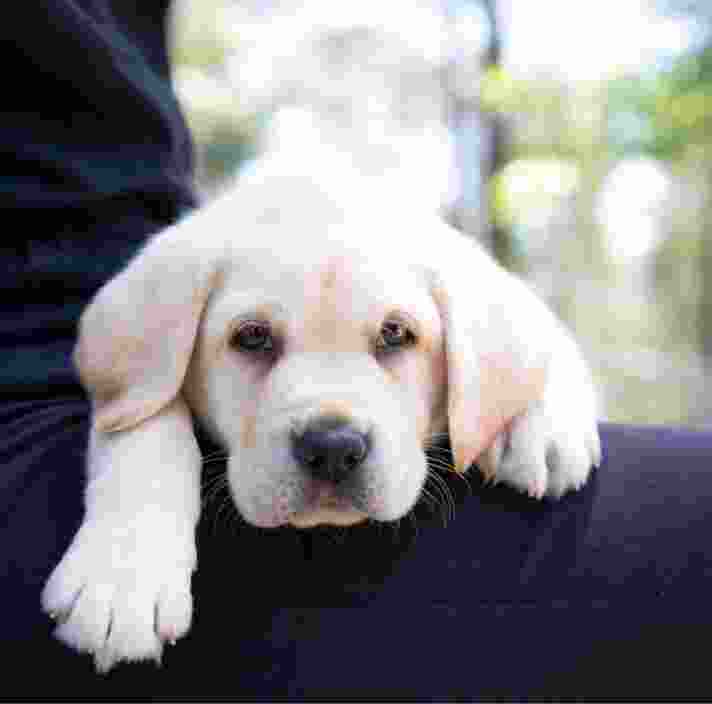 Are Therapy Dogs the same as Guide Dogs?
Understanding the difference between Guide Dogs and Therapy Dogs.
Although they all try their best, not every Guide Dog puppy can become a fully qualified Guide Dog.
Sometimes, if a puppy is shy or a little more playful, they're better suited to offering support as a Therapy Dog; as a loyal and loving best friend.
It's important to know that Therapy Dogs are not considered 'Assistance Dogs', which means they're not trained to provide specific health supports. Because they're not classified as Assistance Dogs, Therapy Dogs do not have the same access rights as Guide Dogs or other Assistance Dogs.
However, thanks to their unique skills—and the fact they've usually been through a large part of the formal Guide Dog training program—Therapy Dogs are fully qualified to offer comfort, loyalty, friendship, and love to people with all kinds of conditions and abilities.
Finding the perfect match
Powerful, long-lasting partnerships that change lives.
Just like with a Guide Dog partnership, Therapy Dogs are carefully selected to match each unique situation, whether they're pairing with a child, a family, or a group of people.
A specific training program may then be developed to ensure the dog is ready to support the individual needs of the young person, family, or group.
To ensure each young person develops a sense of responsibility, the ownership of a Therapy Dog is transferred to the family upon permanent placement.