Make your workplace accessible and inclusive
Lead the way as an accessible and inclusive organisation.
We can help our corporate partners comply with Australian Disability Access Regulations as well as go beyond industry standards and demonstrate sector leadership.
These regulations ensure that our community is safe and accessible for people of all abilities, including people with low vision or blindness.
We can also help you develop and adapt your products and services to be more accessible and inclusive.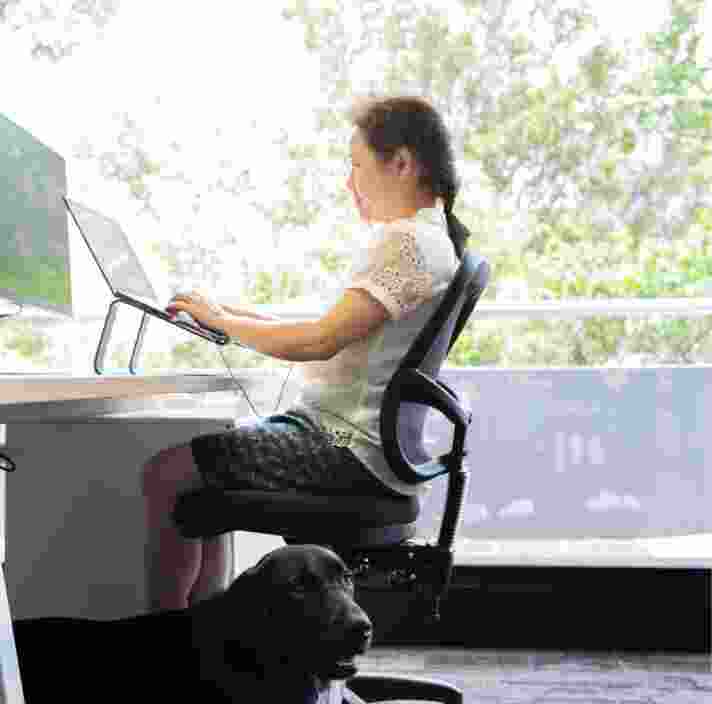 Pro bono donations
Your products and services can change someone's life.
There are many ways to donate to Guide Dogs and donating goods and services are one of these.
If you have products, services, or skilled expertise to donate, we'd love to hear from you! Please contact us at partnerships@guidedogs.com.au.
Donation Dogs
Lend a hand to support our programs.
Hosting a Donation Dog will enable your business to get involved with Guide Dogs at no cost. You'll help change the life of someone who has low vision or blindness by providing a way for the wider community to support our work.
Our iconic Donation Dogs have been hosted in retail outlets for over 60 years and today they generate more funds than ever.
To find out how you can get involved in hosting a Donation Dog please contact your local Guide Dogs organisation.
Puppy sponsorship
Follow a puppy on their journey to Guide Dog graduation.
Did you know it costs $50,000 to breed, train, raise, and match a Guide Dog to a person with low vision or blindness?
As a corporate supporter, you can support a pup all the way through its journey. You even get the unique opportunity to name the puppy!
You'll then get to follow your puppy's journey through Puppy Raising, Guide Dog Training, and finally graduating. Then, they'll enter a life-changing partnership with a person with low vision or blindness.
You'll receive regular photos and video updates, visits to the workplace from your sponsored puppy, and an invitation to the graduation ceremony.
Workplace Giving
Workplace Giving can improve staff retention, lift morale, and help embed organisational values.
Workplace Giving is one of the simplest and most effective ways to support Guide Dogs through regular pre-tax donations and can lift staff morale and values within your organisation.
A Workplace Giver is someone who makes a small regular donation direct from their pay to a charity and receives the tax benefit straight away. For example, if you donate $5, it will only cost you $3.40, however your selected charity will receive the full $5. In many cases, employers will match staff donations, so the value of their donation may even double. It's a great way to show employees the difference your organisation can make.
At Guide Dogs, our Workplace Giving Program includes regular updates on our programs and services, volunteering opportunities, and Ambassador Dog visits to the workplace.
To find out more about Workplace Giving at a national level, contact us at workplacegiving@guidedogs.asn.au. Scroll down to learn more about opportunities in your state.
Corporate volunteering
Lend a hand to support our programs.
There are many volunteering opportunities at Guide Dogs, including our Puppy Raising program.
If you are interested in being a volunteer Puppy Raiser, please contact your local Guide Dogs organisation.