What is Assistive Technology?
Technology can make life easier for everyone.
If you have low vision or blindness, or you've recently experienced a change in vision technology can be a great support. There are many tools and devices to help you access information, find your way around, connect with friends, or enjoy your favourite activities.
Some of these tools and technologies may be new to you, while others can connect to or enhance devices you already own, like your smartphone. Assistive Technologies can be used at home, work, school, or while you're travelling in the community.
As with any technology, it's all about finding the right devices, devices you're comfortable using, which support your goals and of, course, which make things easier for you.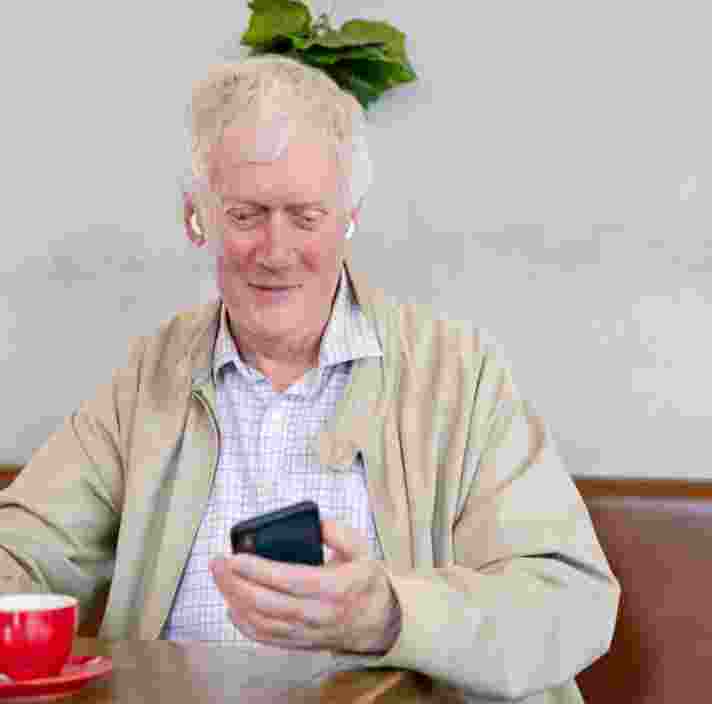 What kind of training & devices are available?
We can help you with a wide range of devices to support your different goals.
There are many different tools and technologies you can access and learn to use. Some of the most common ones include:
Identification canes: You can use these to let other people in the community know that you have low vision or blindness. This is particularly useful in big crowds, on public transport, or in a busy city setting. We can support you to use an identification cane.
Support canes: You can use support canes for extra balance while you're walking, and to make sure other people can see you in the dark or during low light. We can help you with choosing and using a support cane.
Long canes: The long cane is a navigation aid for low vision or blindness. You can use it to sense ground features and obstacles. There are various types of long cane, and Guide Dogs can support you in choosing the right cane. We also offer training in techniques to make using a cane easier.
MiniGuides: This hand-held device will detect objects in your path, like poles, trees, or benches. MiniGuides are what's known as a secondary mobility aid, meaning they're best used in combination with a long cane or a Guide Dog (which are primary mobility aids). We can help you to use a MiniGuide so that it suits you and your goals.
iPhone GPS and smartphone apps: If you have a smartphone, there are many useful features and applications you can access on your phone. We can help you select one (or more) that supports you best and provide training to ensure you get the most out of it.