What is Children's Mobility training?
Children's Mobility training enhances your child's independence.
We all learn to interact with the world from a young age. Through safe play and exploring new environments with confidence, we learn about ourselves, each other, and how to be part of a community.
Children with low vision or blindness are no different. However, they need to develop a different set of skills to understand and move through the world. These skills are taught in Children's Mobility training by Orientation and Mobility specialists. Training can include anything from teaching kids to navigate their home and community, to providing support while they adapt to a change in vision.
Children's Mobility training enhances your child's independence to improve their confidence at school, at home, in the community, and even as teens transition into young adulthood.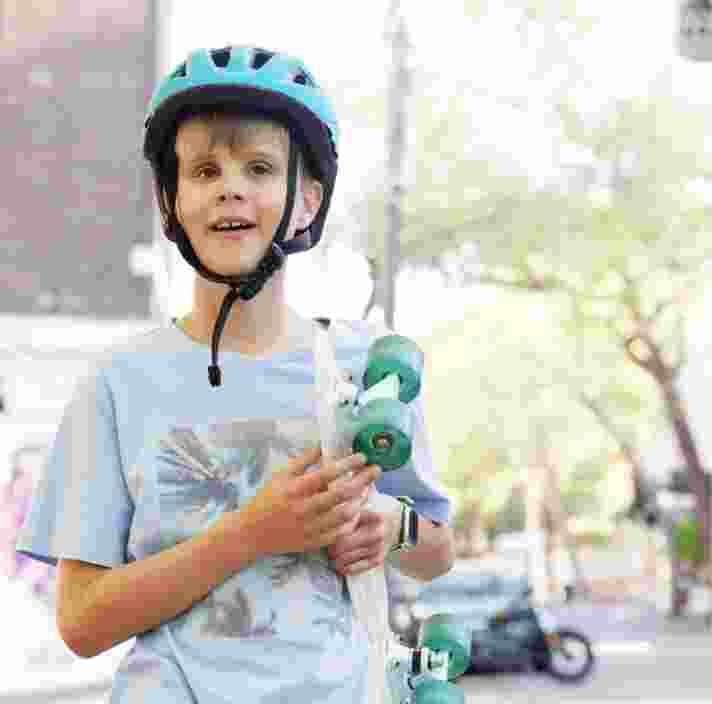 What kind of skills can Children's Mobility training provide?
Your child can learn all sorts of valuable techniques to move confidently through life.
Travelling safely

Including skills to move through the community, catch public transport and use mobility aids to travel with confidence.

Building relationships

Including skills to make new friends, interact with other people in the community and make the most of existing family relationships.

Improved communication

Including skills to talk with others and use other senses like body language or expressions to communicate.

Strategies for school and study

Including skills to get around the schoolyard, set up desks for class, and complete homework. This training aligns with established school programs.

Participation in activities

Including group or leisure activities like reading, playing sport, or learning an instrument.

Preparing for adulthood

Including skills to shop for groceries, manage money, cook basic meals, prepare for working life and learn independent thinking and problem-solving skills.
How is the training structured?
Programs that grow and develop as quickly as they do.
Every program is tailored to your child's needs, age, and skill level. And, just as kids quickly grow to meet new challenges or embrace new experiences, our programs do the same.
Children's Mobility training can flex to support your child through their entire school life—from junior years through to Year 12—introducing different techniques and mobility aids when they become relevant.
Importantly, all training is delivered with a focus on fun. Children's Mobility training teaches your child valuable practical skills while encouraging them to enjoy themselves, make friends, be creative, and explore their potential.
Support is usually provided one-on-one where your child is most comfortable, depending on their goals. It could be in your home, at school, or out and about in the general community.
In support of ongoing Children's Mobility training, we also offer individual programs, camps, group programs, consulting services, and workshops.