What is the identification cane?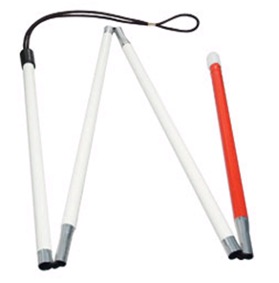 The identification or ID cane is mainly to provide identification to the public that the person using the cane has vision loss. They are typically a white cane with a red tip, and are often used in conjunction with other assistive devices such as a guide dog or electronic device.
The aid can assist with mobility by confirming the presence of drop-offs and other information perceived visually therefore helps increase a person's confidence when travelling.
Limitations of the ID Cane:
Does not provide support
Does not give you information on what lies ahead on the surface
Cannot be used as a long cane due to its length, function and lack of strength.
Not always recognised as a vision impaired "tool" by the public.
As such, the ID cane is shorter than the traditional long cane, is lightweight and folds away easily for storage when not in use.
Generally, people who use an ID cane have some usable vision, but may encounter difficulties when travelling independently.  These difficulties generally fall into the following areas:
Road crossings
Public transport
Crowds and congestion
As the name suggests, the ID cane alerts people that a person's vision is limited, and this knowledge can be incredibly helpful to both the person with low vision and others.
Potential benefits of using an ID cane
Pedestrians may tend to clear the path of travel more readily;
Pedestrians may be more understanding if the person with low vision accidently bumps them;
Bus and tram drivers will more readily offer assistance when support is required to confirm the number of the bus that has pulled up, or to identify a destination;
People may be more understanding and helpful when the person with low vision needs to ask directions or requires support finding an item in a shop or they may step in and assist when there is an unexpected safety issue, such as a sign asking pedestrians to use the footpath on the opposite side of the road.
Identifying low vision at road crossings is also important to safety. A person with low vision will use other techniques, including choosing appropriate crossing locations and listening for traffic, in order to make safe road crossing decisions. Using an ID cane in conjunction with these techniques can maximise safety, by alerting drivers and cyclists to the person's low vision and encouraging greater awareness and caution.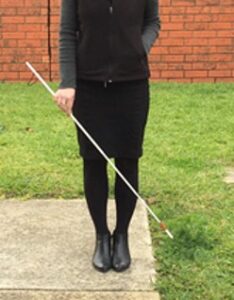 Unlike the long cane, the ID cane doesn't touch the ground.  It is designed to be held diagonally across the body, which maximises its prominence and visibility to others.
There is not a one size fits all ID cane. Different length ID canes are available to accommodate different heights. An Orientation and Mobility Specialist will advise the best size and will provide basic cane training on how to use it safely and effectively.